Rubber Stopper For Infusion
---
Feature
22mm / 24mm / 26mm / 28mm / 32mm / 34mm / IV bag caps
1. All elastomer formulations are compliant with international standards,USP, EP, JP and ISO 8871.and specifically designed to meet multi-piercing needs and facilitate manufacturing processes.
2. Designed and manufactured specially fit for the accordingly medicine, then to provide the highest level of quality and safety.
3. Our Large Volume Parenteral Stoppers for IV solution are available in standard and special surface finishes to support you. Our Infusion Stoppers can be delivered in optional packaging and different finishings including Ready-to-Use (RTU), Ready-to-Sterilize (RTS) to reduce contamination and compatibility issues.
4. Our rubber Infusion Stoppers are appropriate for a wide range of Application Fields including antithrombotics, biologics, small molecules, vaccines and animal health.
5. Available in various sizes, shapes, formulations, colors and finishings ,including 22mm / 24mm / 26mm / 28mm / 32mm and 34mm, red / blue / black / grey and white color and so on.
6. Our special formulations provide high chemical inertness and self-sealing as well as low permeability and resistance to drug.
7. Our professional tech and QA department can support you to design the stopper with special formulations for specific medicine.
8. Suitable for steam and gamma sterilization.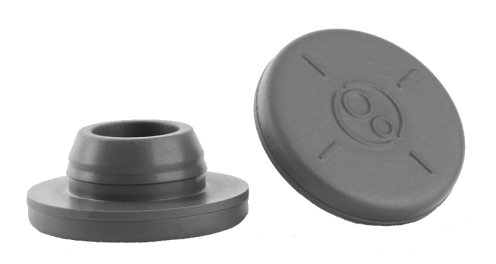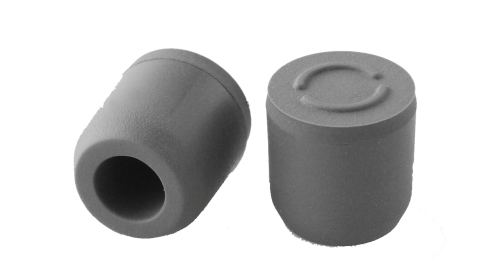 Product specification
Crown characteristics
Top Diameter(mm)
Top Thickness(mm)
Bottom Diameter(mm)
Total Height(mm)
22mm
single circle with 4 lines
 
 
 
 
24mm
2 same pits in one single cirle 
 
 
 
 
26mm
2 same pits in one single cirle with 4 lines
25.5±0.1
4.02±0.2
15.2±0.1
10.1±0.2
28mm
3 same pits in one single cirle with 4 lines
26.5±0.1
3.8±0.1
17.9±0.1
11.3±0.2
32mm-A
3 small pits with 1 big pit in one circle with 4 lines surrounded
30.8±0.3
5±0.3
24.2±0.2
16±0.4
32mm-A1
3 small pits with 1 big pit in one circle with 4 lines surrounded
30.8±0.3
4±0.3
23.6±0.2
12.2±0.4
34mm
1  big pit with 4 lines surrounded
31.9±0.5
4±0.2
26.5±0.2
14.9±0.3
cap
/
7.4±0.1
2.4±0.2
/
7.6±0.2
| | | | | |
| --- | --- | --- | --- | --- |
| Item | PCS/BAG | PCS /CTN | N.W. KG/CTN | G.W.  KG/CTN |
| 22mm | 5000 | 10000 | 20 | 21 |
| 24mm | 3000 | 6000 | 17.9 | 19 |
| 26mm | 2500 | 5000 | 17 | 18.1 |
| 28mm | 2500 | 5000 | 17.9 | 19 |
| 32mm | 1000 | 2000 | 17 | 18.1 |
| 34mm | 1000 | 2000 | 19.8 | 20.9 |
| cap | 2000 | 30000 | 16.5 | 17.6 |