Rubber Stopper For Lyophilization
---
---
Feature
20-D1 / 20-D2 / 20-D3 / 20-D4 / 13-D1 / 13-D2
1. Available in various sizes, shapes, formulations, colors and finishings.

2. Choice of packaging for Ready-To-Sterilize (Tyvek® or PE bags), Ready-To-Use.

3. High-quality optimized formulations with low residual moisture content.For freeze drying applications, we offer specail elastomeric formulations with stable inertness which provides low level residual moisture, especially important for lyophilized drugs.

Continue to develop innovative elastomeric formulations offering a balance of both chemical and physical properties with the fewest possible ingredients.Manufactured from an ultra pure bromobutyl formulation with extremely high chemical purity and low gas permeability. It ensures the best chemical inertness, which is ideal for sensitive drugs including Biotech.Optimized drying properties for various fields.

4. Ensuring quality protection of lyophilized drug formulations.Our Lyophilization Stoppers are specifically designed to answer the challenge of freeze-drying and ensure ideal protection of sensitive molecules used by biotechnology companies.
Different designs such asigloo , two-legs or three-legs for powders, adapting to all freeze-drying cycles.
We offer the lowest moisture formulations providing optimal protection of the lyophilized.

5. Coated stopper for high quality requirements.Our lyophilization stoppers are available in coated ,which guarantees the specification resulting in lower particles,improves particulate cleanliness and an total defects.

6. Compatibility with steam sterilization or gamma irradiation.

7. Compliance with USP, E.P. and J. P. ISO9001.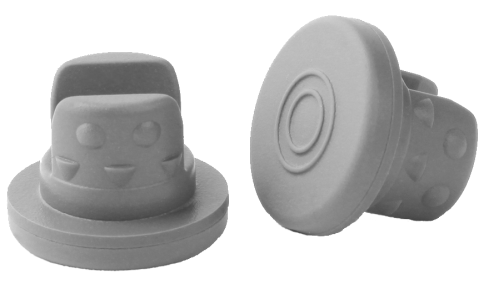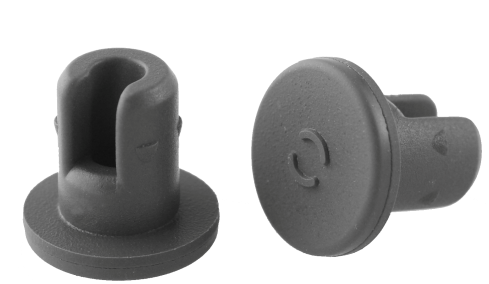 | | | | | |
| --- | --- | --- | --- | --- |
| Item name | Crown Dia. (mm) | Neck Dia. (mm) | Crown thickness(mm) | Height(mm) |
| 20-D1 | 18.8 | 13.2 | 3.3 | 13.8 |
| 20-D2 | 18.8 | 13.2 | 3.3 | 13.8 |
| 20-D3 | 18.8 | 13.2 | 3.3 | 13.8 |
| 20-D4 | 18.8 | 13.5 | 3.5 | 14.5 |
| 13-D1 | 12.5 | 7.5 | 2 | 9.9 |
| 13-D2 | 12.5 | 7.5 | 2 | 9.8 |
| | | | | |
| --- | --- | --- | --- | --- |
| Item | PCS/BAG | PCS /CTN | N.W. KG/BAG | G.W. KG/CTN |
| 20-D1 | 4000 | 8000 | 18.4 | 19.5 |
| 20-D2 | 4000 | 8000 | 18.4 | 19.5 |
| 20-D3 | 4000 | 8000 | 20.1 | 21.2 |
| 20-D4 | 4000 | 8000 | 18.9 | 20 |
| 13-D1 | 10000 | 20000 | 13.1 | 14.2 |
| 13-D2 | 10000 | 20000 | 12.8 | 13.9 |