Rubber Stopper For Lyophilization
---
---
Lyophilization stoppers are designed to remain stable on the vial in the freeze dryer during the transfer and sublimation phases, as well as maintain excellent performance during freeze-drying process conditions.
Our Lyophilization stoppers ensure high-level chemical inertness and effective recovery of the reconstituted drug product as well as optimal protection of the lyophilization drug.
Super-low extractables& leachables protect product quality and provide broad drug compatibility.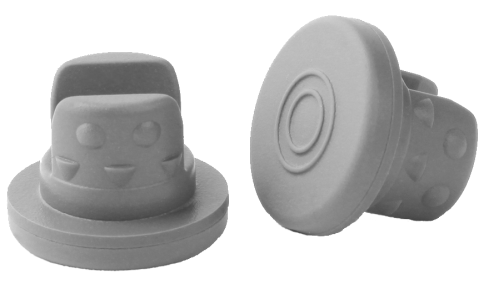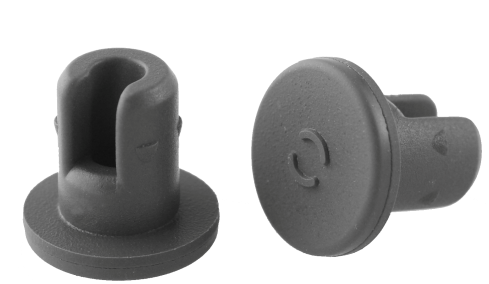 Low Level Extractables Inform Decision-making & Enable Risk Assessment
---
Low level of particulates achieved through both raw material selection & processing.Low permeability and low level of residual moisture.
A product dried to 3% of residual moisture will absorb moisture when exposed to an environment with greater moisture than its own level. Our lyophilization stopper formulations have been developed to guarantee a very low level of moisture and thus the protection of the lyo product throughout its shelf life.
State of The Art Design and Low Temperature Resistance
---
Our stoppers have been developed to meet all of the demanding parameters for lyophilization: ease of pre-positioning of the stoppers on the vials, resistance to very low temperature during the freezing phase, impermeability to facilitate the drying processes, specific shapes to allow smooth closing of the vials and avoid pop-off issues, rough surface and paces to reduce the risk of sticking to the upper shelf after closing of the vials.
Good Machinery
---
Adapted and surface treatments. Our lyophilization stoppers have anti-sticking spacers and come with either matte or rough surface on the flange and at the bottom of the stopper. Rough surface reduces the risk of conglutinated stoppers and improves the anti-sticking performance during shelf compression to close the vials.
Formulation Optimized for Low Moisture Content
---
Optimized drying properties improve steam sterilization throughput & save time.
Compatibility with steam sterilization or gamma irradiation provides processing flexibility.
Risk-mediated supply with strong inventory positions & qualified alternative sources of raw materials.
| | | | | |
| --- | --- | --- | --- | --- |
| Item name | Crown Dia. (mm) | Neck Dia. (mm) | Crown thickness (mm) | Height (mm) |
| 20-D1 | 18.8 | 13.2 | 3.3 | 13.8 |
| 20-D2 | 18.8 | 13.2 | 3.3 | 13.8 |
| 20-D3 | 18.8 | 13.2 | 3.3 | 13.8 |
| 20-D4 | 18.8 | 13.5 | 3.5 | 14.5 |
| 13-D1 | 12.5 | 7.5 | 2 | 9.9 |
| 13-D2 | 12.5 | 7.5 | 2 | 9.8 |